Campus Resources and Policies
 Welcome to the 2020-2021 Student Advisors to the Chancellor (SACs)
Hla Elkhatib and Diana Martinez are the Student Advisors to the Chancellor for 2020-2021
Our Mission
Fostering communication between students and the administration

Listening and responding to student issues

Utilizing resources to advance student interests

Advocating on behalf of students
Diana Martinez is both a persevering Latina and a first-generation student working towards a major in Political Science and Chicanx Studies, with a minor in Education. Both her academic and personal goals are motivated by her love and dedication towards improving her community. As a future educator, Diana hopes to make education accessible to all communities, specifically those who are underprivileged and underrepresented. Diana has served 2+ years at the AB540 and Undocumented Student Center as volunteer, student staff, and advocate. She is currently Advocacy Chair at S.P.E.A.K for the Undocumented Community, a large student advocacy organization on campus. Diana is also a third year Lead Tutor for the Davis Bridge Program.
Hla Elkhatib is a Palestinian pre-law student majoring in political science with a minor in human rights. She is a fierce activist and student leader who is especially passionate about advocating for the rights of marginalized communities. Hla is dedicated to serving her community and is motivated by her goals to foster diversity, equity, and inclusion on campus. She currently serves as the Vice-Chair of the Ethnic and Cultural Affairs Commission and is also a writer for The Other Collective, a student-run magazine that aims to dismantle orientalist media perspective and uplift the voices of SA/SWANA communities.
---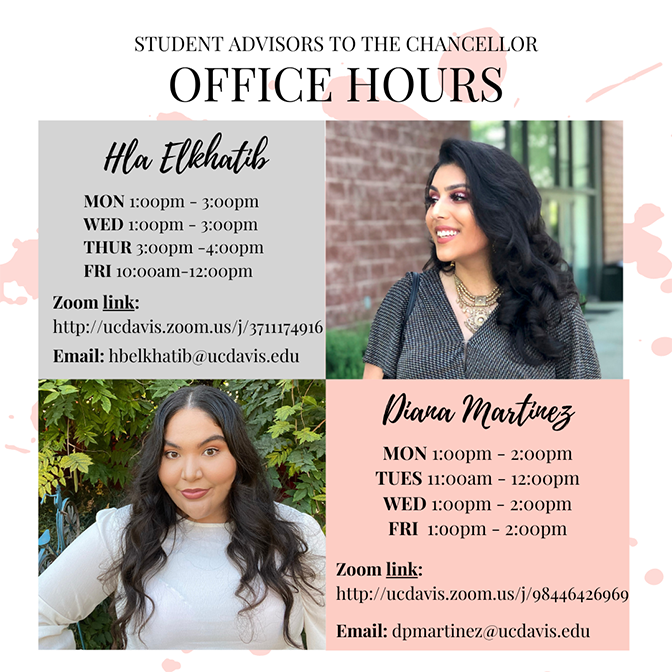 ---
More.....
We want to hear any and all feedback, suggestions, concerns, and questions you have regarding student life. Invite us to your organization or club meetings. We need to know what matters to you.
Do you have concerns, questions, or ideas to share?
Please contact us at sac@ucdavis.edu
And... follow us on social media:
Instagram: https://www.instagram.com/ucdavissac
Facebook: https://www.facebook.com/UCDavisSAC