Welcome to the 2022-2023 Student Advisors to the Chancellor (SACs)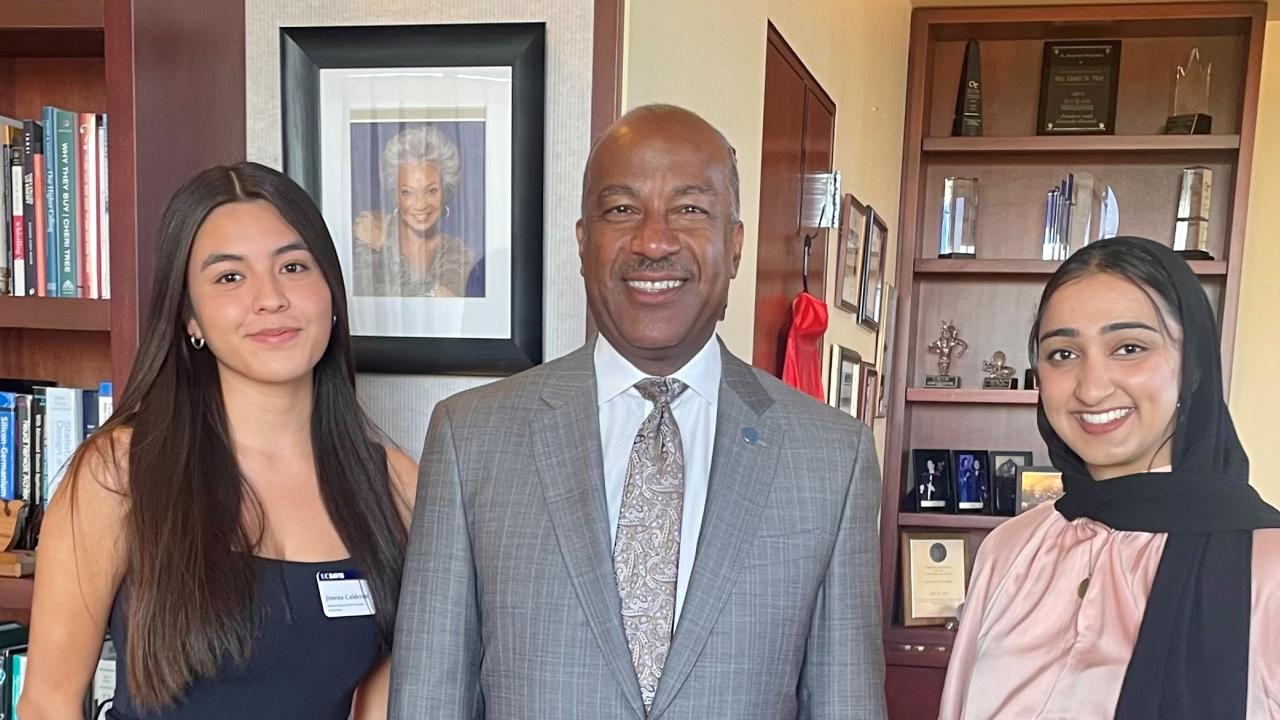 Jimena Calderon and Maahum Shahab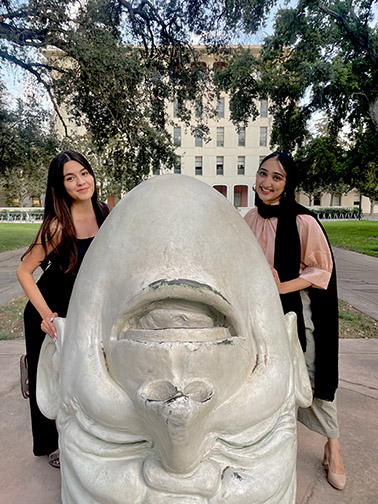 Our Mission
 Fostering communication between students and the administration
 Listening and responding to student issues
Utilizing resources to advance student interests
Advocating on behalf of students
Jimena Calderon (she/her/hers) is a proud Latina and first-generation college student studying Political Science and Chicanx Studies. Her leadership and service are oriented toward improving educational access and quality and empowering and uplifting underserved communities. During her time at UC Davis, Jimena has served as an Advocacy and Policy Intern for the AB540 and Undocumented Student Center, as a Commissioner for the ASUCD Ethnic and Cultural Affairs Commission, and currently serves as an Executive Co-Chair for S.P.E.A.K. In serving as a Student Advisor to the Chancellor, Jimena is dedicated to bringing to light the experiences and voices of marginalized students on campus. In her spare time, Jimena loves binge-watching shows, eating poke, and spending quality time with friends and family.
Maahum Shahab (she/her/hers) is a passionate, energetic, and hardworking incoming fourth-year majoring in International Relations, with planned minors in Human Rights, Professional Writing, and Technology Management. She cares deeply about learning from and uplifting marginalized communities, working to expand access to basic needs resources, and cultivating inclusivity and compassion throughout campus. During her time at Davis thus far, Maahum has worked as a scholar staff member at the Cross-Cultural Center, she has served as an ASUCD Senator and Commission Chairperson, and she has taken on several internship and research positions centered around service and advocacy. This year, outside her role as Student Advisor to the Chancellor, she serves as the President of the Muslim Student Association at UC Davis. On a typical day, when she's not studying or working, you can probably find Maahum goofing off with friends at the Student Community Center, spending too much money on boba from Teaspoon, or trying (and failing) to teach herself how to rollerblade at Hutchinson parking garage. In her role as Student Advisor, Maahum hopes to create a strong and positive impact by representing the needs and concerns of the diverse student body, while advocating for effective changes that benefit all.
---
More.....
We want to hear any and all feedback, suggestions, concerns, and questions you have regarding student life. Invite us to your organization or club meetings. We need to know what matters to you.
Do you have concerns, questions, or ideas to share?
Please contact us at 
sac@ucdavis.edu to find out more about CUAB, and more!
Please click HERE for office hours.
And... follow us on social media: