The purpose of the Chancellor's Undergraduate Advisory Board (CUAB) is to advise the administration on major initiatives that impact the academic student experience on a variety of topics, which include but are not limited to student enrollment, research and creative activity, diversity, international experiences, academic advising, campus climate and other aspects of undergraduate student life. As members of CUAB, you will collaborate with a diverse group of highly motivated student leaders and advocates to assist the Student Assistants to the Chancellor and the Administration with enhancing the overall undergraduate student experience. These positions are intentionally designed to be flexible in order to best utilize the individual talents of each student selected to serve.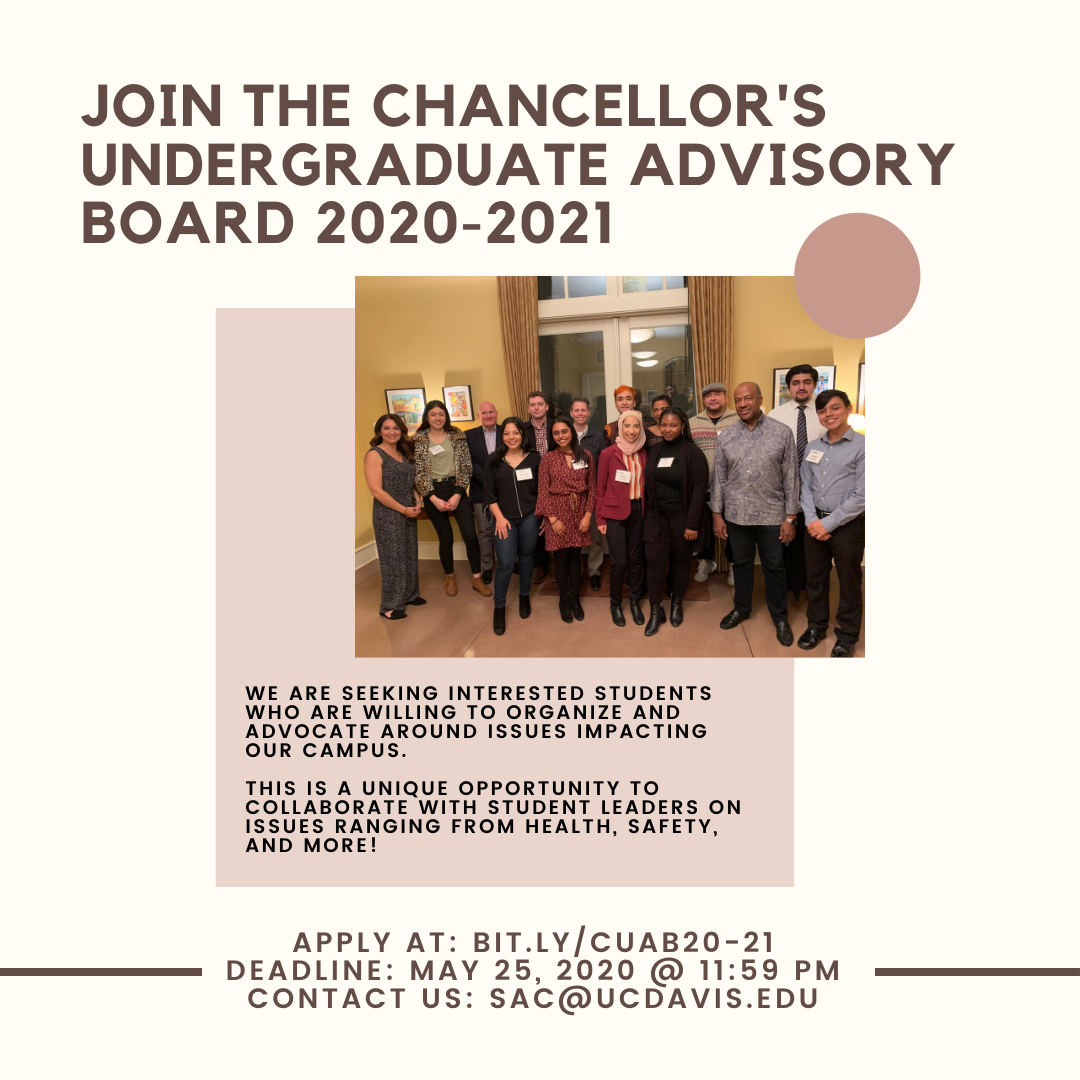 Apply to serve as one of five At- Large Members at: http://bit.ly/CUAB20-21
Application Due on Monday, May 25th, 2020, by 11:59 pm
REQUIREMENTS AND GUIDELINES
•    Must be a registered student in good academic standing making progress towards a degree throughout the period of service. Students should have Junior or Senior class standing in order to be considered.
•    Extensive knowledge of the campus and needs of students. Transfer students may use previous student experience as a basis for consideration.
•    Ability to respond to crises by mediating conflicts and managing a crisis situation.
•    Experience planning and coordinating events.
•    Demonstrated self-motivation and the capability to work well with a variety of people.
•       Excellent written and verbal presentation skills and technological experience for word processing, e-mail 
        communication and social media.
•       Insight and ability to organize around a campus issue for their Passion Project. The Passion Project is an opportunity for members of CUAB to specialize in a specific campus climate issue. With the support of the Student Advisors to Chancellor, CUAB members can create outreach materials, host a workshop, connect with Administration/Campus Leadership, or even draft a policy to address the student need arising from their campus climate issue of interest.  
•       May not have more than 2 unexcused absences from CUAB meetings.
TIME COMMITMENT 
•       Selected members are expected to attend CUAB's monthly work-meetings and scheduled meetings with the Office of the Chancellor. 
•       CUAB members will have the opportunity to engage in a Passion Project, host outreach hours, and/or facilitate a CUAB campus outreach event. At least 12 hours of work per quarter is advised for all members.